Red Clam Risotto and Rouille
Pangaea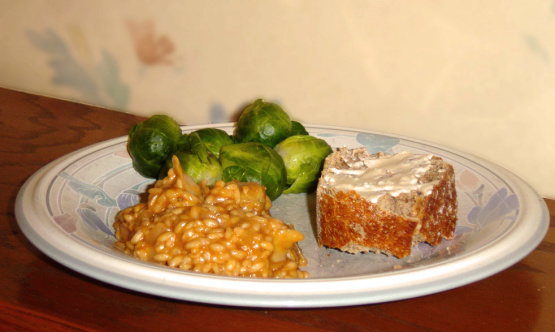 This recipe makes a very rich risotto. It was designed around the use of Midas Touch, a Dogfish Head beer made from a mix of fermented barley, Muscat grapes and honey, then spiced with saffron. So, using that particular ale is key. Though, if you can't find it, any Belgian Pale or Wit plus a pinch of saffron would suffice. Like all risotto, this is a bit time consuming, but it's worth it. The Rouille is not in any way a traditional Rouille, so please don't take offense to my use of the word. The real stuff is just so unhealthy, I wanted to get similar flavors without so many calories.
Red Clam Risotto

1

dozen clam, soaked and cleaned

1

cup beer, preferably Dogfish Head Midas Touch
1⁄2 cup tomato sauce
1⁄2 teaspoon chili paste
1⁄2 teaspoon black pepper
1⁄4 teaspoon sweet paprika

1

pinch smoked paprika

2

tablespoons butter

1

shallot, chopped

3

garlic cloves, minced
1⁄2 cup arborio rice
1⁄4 cup mozzarella cheese

Rouille

1⁄2 cup Greek yogurt

2

tablespoons olive oil
1⁄4 teaspoon dry mustard

3

garlic cloves, minced

1

teaspoon beer, preferably Dogfish Head Midas Touch
1⁄4 teaspoon cayenne

1

dash anise-flavored liqueur, Anisette, Sambuca, etc

1

dash lemon juice
salt, to taste

2

slices sourdough bread, toasted
1. Combine all Rouille ingredients, except bread, and refridgerate.
2. Add beer, tomato sauce, chili paste, black pepper, sweet paprika, and smoked paprika to a stock pot and bring to a boil.
3. Reduce to a simmer, add Clams, and cover. After 10-15 minutes, clams should begin to pop open.
4. Strain out the clams, reserving all liquid, and put them aside. Should yield roughly 1-1/2 to 2 cups.
5. Heat butter in frying pan.
6. Cook garlic and shallot in butter until translucent.
7. Add dry rice, stirring constantly to coat in butter and toast, for about 3 minutes.
8. Add 1/2 cup of reserved liquid, stirring continuously until completely absorbed.
9. Continue this process with the rest of the liquid, 1/2 cup at a time. Should take about 25 minutes, but use your taste as a guide.
10. Add mozzarella and clams (now removed from the shell) for the last 5 minutes of the process.
11. Scoop onto a place and serve with Rouille spread on toasted sourdough.