DuChick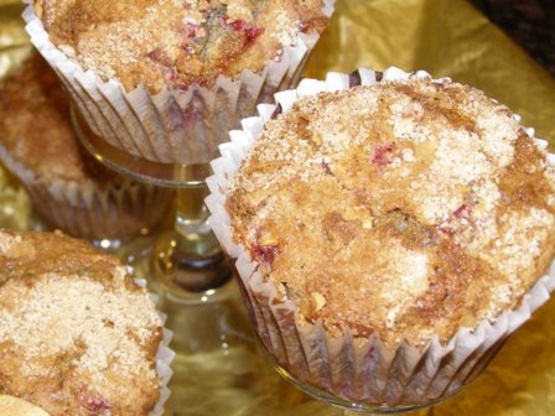 This recipe came from an open air market located in Lake Forest, Illinois called Angiporto. This market was known for its muffins, jams, pestos, salad dressings and soups all made from locally grown produce. This muffin is purported to be their most famous and most requested. If you prefer you can use cupcake liners in your muffin pans and you can skip greasing the pan. You can also use frozen raspberries if fresh ones aren't available, but be gentle folding them in as they tend to break more easily than fresh ones. As with any muffin recipe please do not overbeat the batter. Also, do not put too much topping as it can cause the muffin to sink. I find it's easier to use your hands to mix the topping. This is DH's favorite new muffin recipe. I was afraid the allspice and clove might be overpowering, but it's just right.

MMmmmuffins! These satisfied quite a few muffin lovers today at school. They were very moist and so different with the spices, which surprised a few...happily! I used frozen raspberries that I picked last summer and they held together perfectly. The only thing I had to sub were the pecans in the topping. I had almonds, so I used those. I used jumbo muffin pans and ended up with 10 very lovely treats. Thanks!
Preheat oven to 375 degrees.
Muffins:.
Beat the eggs, sugar and butter until light.
Add the milk to the egg mixture and stir until blended.
Combine baking soda, cinnamon, allspice, cloves, salt and flour.
Add the dry ingredients to the egg mixture mixing until just blended.
Carefully fold in the raspberries.
Fill well greased regular muffin pans approximately 1/2 to 2/3 full.
Top with a scant tbsp of topping.
Bake for 20 minutes or until the muffins are cooked in the middle.
Topping:.
In large bowl combine all ingredients, mixing well.