momaphet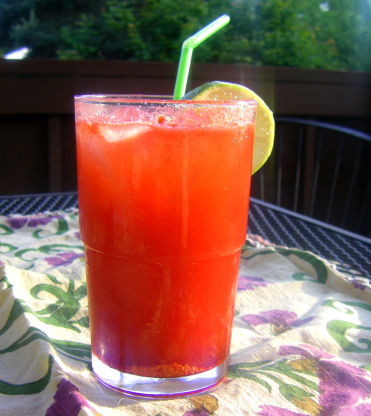 A refreshing summer cocktail. This is also really good substituting fresh strawberries for raspberries. Recipe found in the local paper.
This is absolutely delicious! I love raspberry; adding lime and tequila to it is a wonderful combination. I made a half recipe and found the mix made too much to add more than a splash of soda, so I set some aside to add in later. I increased the sugar as my raspberrys were very tart, and I like a little extra lime. One word of caution, don't put your straw all the way to the bottom of the glass or you end up sucking raspberry seeds! Thank you Lula, this was the perfect drink for a Summer's evening after a hard day at work! Reviewed for My 3 Chefs 2008
Combine tequila, lime juice, sugar, raspberries and 1 cup ice in blender. Puree. Pour into 2 large glasses half filled with ice.
Add 1/2 to 1/2" club soda to each glass. Stir gently. Garnish with lime.