Raspberry-Chambord Sorbet
Maito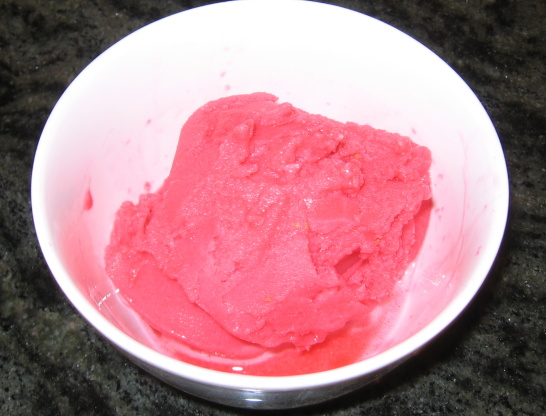 Chambord can be served straight or on the rocks, and is frequently served in mixes with cognac or champagne. It is a very dark purple color, with a slightly syrupy consistency, and is as sweet as candy. The luscious flavor comes from a mixture of black cherry, black raspberry, plum, honey and assorted herbs. The flavoring of the Chambord adds to this deep-ruby sorbet. Courtesy Diana Baker Woodall, June 27, 2004. Haven't allowed for freezing time in ice cream maker, as they all vary according to different manufacturers'.

Used two boxes of fresh raspberries which yielded approx. 2 cups of puree (before removal of seeds). Followed the recipe and ended up with an amazing sorbet. Definitely a keeper!
In a saucepan, combine the sugar and water over high heat.
Stir occasionally until the sugar is completely dissolved and the syrup is simmering, about 5 minutes.
Remove from the heat. (You should have about 1/2 cup syrup.).
In a mixing bowl, combine the warm syrup with the raspberry puree, Chambord and lemon juice. Stir well to combine and then let mixture cool to room temperature.
For faster freezing, transfer the mixture to the refrigerator to chill there first.
Freeze the mixture in an ice-cream maker, following the manufacturer's instructions.
When ready to serve, place the sorbet in a pretty dessert cup, parfait glasses, or even champagne flutes; with macadamia nut cookies, and a sprig of mint.
Voila!