Raspberry-and-Brown-Sugar Coffee Cake
Juenessa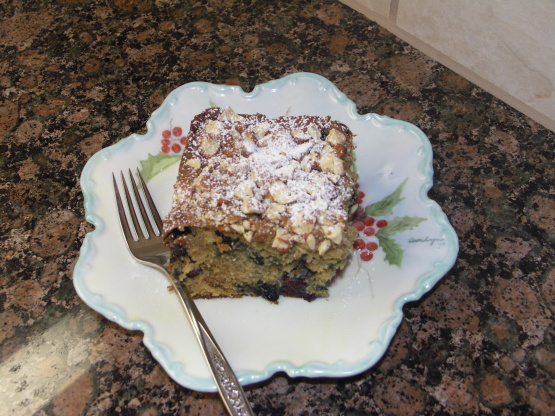 I made this cofee cake as a half recipe and baked it in a 9 X 9 glass baking dish--which was perfect for our family. I also used frozen blueberries as my fruit. The cake is very moist and dense. It is not overly sweet, which is great for a coffee cake. It tasted very old-fashioned! My husband loved the chopped almond topping. I thought the almonds just kind of sat on top of the cake and didn't really incorporate well as a topping. I felt like the almonds would've been better if the topping had been a streusal topping with slivered almonds, but didn't think of that until after I had already baked the cake. I think this is just a personal preference thing and others might really like the almonds on top, just as the recipe states. I dusted the individual cake servings with powdered sugar; which gave each piece a very nice presentation. My cake took quite a bit longer to bake than the 1 hour specified in the instructions. I know each oven is different, and it worked out fine. I think I baked my cake for about 1 hour and 20 minutes. Thanks, looneytunesfan. I'm glad I tried your recipe!
Preheat oven to 325°F (160°C).
Butter and flour a 9- x 13-inch baking pan.
Roughly chop the almonds.
Set aside.
In the bowl of an electric mixer, cream the butter and brown sugar until light and fluffy, about 8 minutes on high speed.
In a separate bowl, combine the eggs, milk, vanilla and almond extracts, and whisk until blended.
Slowly beat this mixture into the creamed butter.
Don't be alarmed if the butter separates somewhat.
It will come together when you stir in the dry ingredients.
In another bowl, combine the flour, baking powder, baking soda and salt, and mix well.
Using a wooden spoon, stir the dry ingredients into the wet mixture in thirds, alternating with the buttermilk.
Mix until just combined.
Add the raspberries and stir gently to incorporate without smashing the fruit.
Transfer the batter to the prepared pan, evening it out to the edges.
Top with the chopped almonds.
Bake for approximately 1 hour, or until a toothpick inserted in the center comes out clean and the cake springs back to the touch.
Remove from the oven and cool completely before serving.
The cake also makes a delicious dessert.
You can substitute other berries, such as blueberries or blackberries, for the raspberries.