Quinoa Salad With Mangoes and Curry Dressing
Linky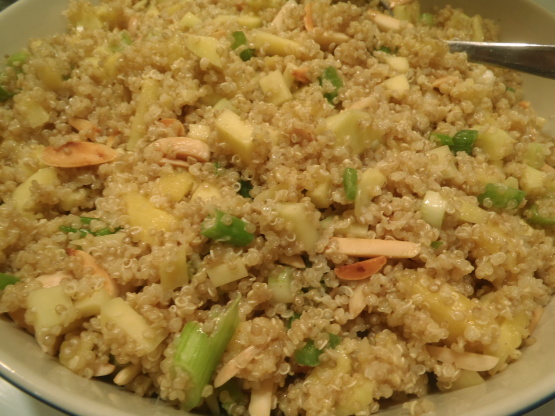 This recipe comes from Deborah Madison's Vegetarian Cooking for Everyone.

This is a really great salad. I made it for dinner to have with chicken wings. It is sweet-sour with a bit of spice and we both loved it. It would be a great salad for a potluck because it is so different than the usual salad you are guaranteed to not have to worry if some brought the same thing. I made it with a mango and a can of pineapple because my supermarket had only one mango (I am not sure why, at least it was ripe!) I think it would be great with just mango as the recipe suggests, probably less acidic that way. Thanks for sharing! Made for PAC Spring 2013.
Bring 3 cups of water to boil in a saucepan, then add the quinoa and salt. Lower the heat, cover, and simmer until the quinoa is tender (about 12-15 minutes). Drain.
Peel and dice the mangoes into 1/2" squares.
Toss the completely cooled quinoa with the mangoes, chile, scallions, and curry vinaigrette (directions follow).
Chop the almonds and add them last so they stay crisp.
For the Curry Vinaigrette: Pound or mince the garlic and salt in a mortar until smooth, or put the garlic through a press. Place these into a small bowl and add the yogurt and curry. Stir in the lemon juice, and then whisk in the oil until the texture is thick and creamy. Let stand 15 minutes, then stir in the cilantro. Taste for tartness and salt and adjust if needed.