Koshka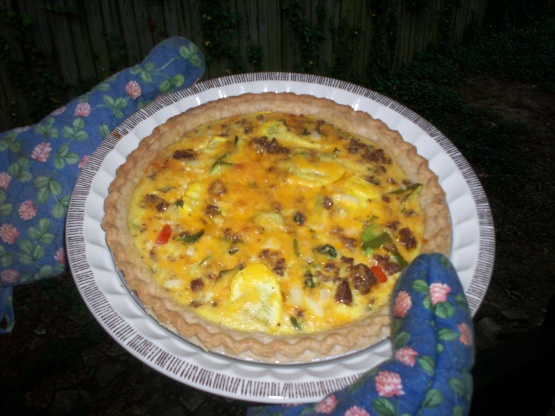 Great for breakfast, lunch, or dinner. Serve with a side of cinnamon apple sauce for a quick and easy meal idea.

this quiche was delicious! very easy to make and easy to enjoy. it had a substantial, savory taste, unlike other quiches i've had. we had it for dinner and was a total crowd-pleaser!
Preheat oven to 350 degrees
Remove pie crusts from freezer or fridge so they are cold but not frozen.
Brown spicy sausage over medium heat.
In a large bowl, whisk the eggs, milk, garlic salt, and pepper.
Cut the herbs and vegetables and combine in with the egg mixture.
Add 1 c sharp cheese and gently fold the mixture so the vegetables are evenly distributed.
Pour in to pie crusts and add another 1 c sharp cheese to top.
Bake at 350 degrees for 50 minutes to an hour or until slightly browned.
Suggested garnish: sour cream and salsa
Serve with cinnamon apple sauce.