Demandy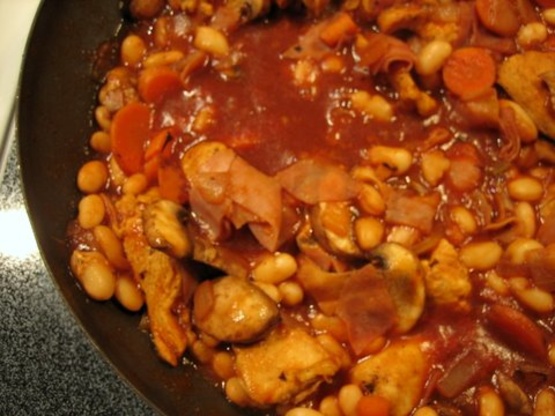 This even got a thumb's up from my bean-disliking husband. Leftovers freeze well.

Top Review by Debbb
This is pretty good - very similar taste to boston brown beans but with meat. I subbed low fat diced turkey sausage for the ham but followed the recipe otherwise. I think I would have preferred the vegetables to be even more tender. All in all, it was a hearty, healthy & easy recipe.
Spray a large skillet with nonstick spray and place over med-high heat.
Add onion, carrots, celery, and garlic and cook until tender, about 7 minutes.
Rise chicken, pat dry, and cut into bite-sized pieces.
Add chicken to skillet and cook & stir until tender, about 3 minutes.
Stir in remaining ingredients and reduce heat to med-low.
Cook five minutes, stirring occasionally.