lazyme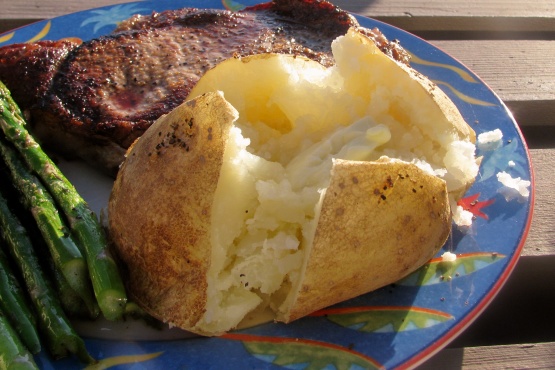 From WebMD. I haven't tried this yet, but wanted to post it here so I don't forget or lose it.

I found this worked and I got a crispy skin on my potato (which I wanted) by baking it in the oven for about 20 minutes instead of 15 and turning the temp up to 375 after 10 minutes. I also rinsed them with water as suggested both before microwaving and before putting them in the oven, and I think that helped, but they need a slightly higher temp than the recipe says if you like the skin crispy.
Preheat oven to 350°F.
Wash the potato, puncture with a fork in 2-3 places, then microwave on high for about 4 minutes.
Rinse it again so it's wet. Sprinkle on salt and pepper if desired.
Finish baking in oven for 10 to 15 minutes.