Prep 20 mins
Cook 38 mins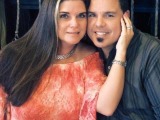 This dessert is impressive and simple. You can eat it as is, or serve with vanilla ice cream on top.
1 sheet frozen puff pastry, thawed (half of 17.3-ounce package)
3 medium golden delicious apples, peeled, cored, very thinly sliced
2 tablespoons unsalted butter, melted
3 tablespoons cinnamon sugar (or 3 tablespoons sugar mixed with 1/2 teaspoon ground cinnamon)
1⁄4 cup apricot jam, melted
Directions
Preheat oven to 400°F
Line baking sheet with parchment paper.
Unfold pastry on parchment paper.
Using tines of fork, pierce 1/2-inch border around edge of pastry, then pierce center all over.
Arrange apples atop pastry in 4 rows, overlapping apple slices and leaving border clear.
Brush apples with melted butter; sprinkle with cinnamon sugar.
Bake 30 minutes.
Brush melted jam over apples.
Bake tart until golden, about 8 minutes longer.
Serve warm or at room temperature.
Most Helpful
Easy and delicious. I took this out of the oven, left for about 30 minutes, and when I returned home, it was gone! Thank goodness I tried a piece before I left. Thanks for sharing the recipe!

I didn't have parchment paper and used a silpat under the dough. Consequently the pastry didn't crisp up under the apples as I would have liked. The flavor and ease of this dessert still warrants 4 stars and I will definitely make it again and see if it was my error that caused my less than perfect results. Here's hoping I can give it 5 stars next time.