Suzie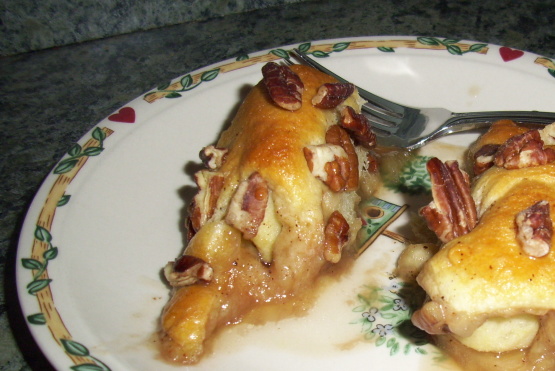 My mother and I adapted this recipe from one published in our local newspaper.

Top Review by Suzie
Made for Spring, 2010 PAC. These little dumplings were a delight to make. So easy. What a nice dessert to present to family and friends. Better yet, a great replacement for the same-old, same-old breakfast cinnamon buns. I will cut down on the sugar the next time I make them as they were too sweet for me. But as far as the aroma wafting from the kitchen as they baked? Mmmm, Mmmm, Mmmm. Thanks for sharing!!!
Grease an 8 inch square baking dish. Separate the crescent roll dough. Place the apple quarters on the separated dough pieces and sprinkle with the cinnamon .Wrap each piece of dough around the apple quarters. Place in pan. Combine the juice, sugars, and butter in saucepan. bring to boil. Remove from the heat and add the vanilla. Pour over the dumplings. Sprinkle with pecans. Bake at 350 degrees for 30 minutes or until the crust is golden brown. Serve at once.