Quick and Easy Fried Goat Cheese
Prep 20 mins
Cook 20 mins

Another ZWT III submission. This is a great recipe from The Essential Vegetarian Cookbook. These little guys are great, I serve them with crusty bread so you can spread the fried cheese all over the bread.
8 ounces log goat cheese, cut into 1/2 inch slices
2 eggs, lightly beaten
1 cup fresh breadcrumb
1⁄2 cup parmesan cheese, grated
1 teaspoon sweet paprika
oil (for frying)
Directions
Mix the bread crumbs and grated cheese in a bowl.
Dip the cheese slices into the eggs, and then into the breadcrumb mixture.
Refrigerate for 1 hour.
Deep fry for about two minutes, or until the outside is golden.
Enjoy!
Most Helpful
These take a salad to the next level.

Oh these are wonderful little goat cheese rounds! Crisp and golden on the outside, velvety soft on the inside and still warm when you cut into them. I served them on a fancy salad just like I first had at a restaurant. They are great this way. Thanks! [Made for Zaar Cookbook Tag]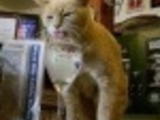 This turned out fabulous...I had an appetizer at a Bistro in Grand Rapids that I tried to duplicate with this recipe...turned out great....