Puntas De Filete a La Nortena
rpgaymer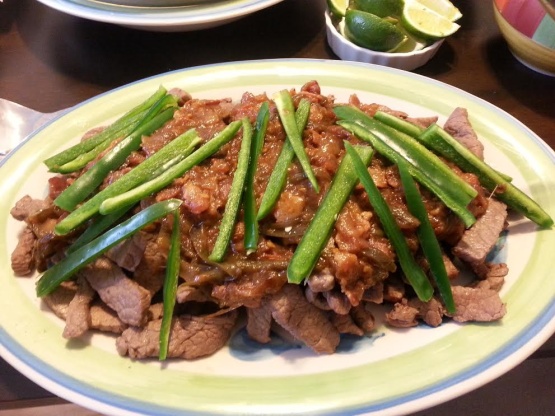 Translation: Beef Fillet, Northern Style. This authentic, regional Mexican dish is made fiery with the use of green serrano chiles. Make sure you have a nice cold Mexican beer standing by!
Very good! I halved the recipe, and also used Adobo seasoning to flavor the beef a bit before frying. The sauce had a really unique flavor from the bacon and caramelized onions, and it was not overly spicy. This definitely isn't a typical, Americanized Mexican dish. I served the meat as tacos in corn tortillas, and topped with queso fresco, fresh guacamole, and lime juice. The next day, I had the leftovers over beans & rice and topped with cotija cheese and pico de gallo. Very, very good both ways.
Sauce

1⁄2 cup unsalted butter
1⁄2 cup olive oil

4

medium onions, halved, sliced on diagonal

15

serrano chilies, seeded, cut into thin strips

6

medium tomatoes, finely chopped (about 2-1/2 lb.)
salt & freshly ground black pepper (to taste)

Beef

1

lb bacon, finely chopped
1⁄2 cup olive oil

1

medium onion, finely chopped

4

lbs filet of beef, cut into 2x1/2-inch strips

Garnish

4

fresh jalapeno peppers, seeded, cut into thin strips
3⁄4 cup fresh cilantro, finely chopped
Prepare sauce: Heat large heavy skillet over medium-high heat for 6 minutes. Add butter and oil. Stir in onions and chiles. Cook, stirring frequently, until onions are golden, about 15 minutes. Add tomatoes and sprinkle lightly with salt and pepper. Heat, stirring occasionally, to boiling. Reduce heat and simmer uncovered, stirring occasionally, until sauce thickens and fat rises to surface, about 30 minutes. Skim off fat.
Prepare beef: Heat large heavy skillet over medium-high heat 15 minutes. Add bacon and fry until crisp. Remove to paper towels to drain. Add oil to skillet. Stir in onion and saute until light brown, about 5 minutes. Add beef and brown on all sides, about 8 minutes. Sprinkle lightly with salt and pepper. Remove beef and keep warm.
Add sauce to onion in skillet. Stir in bacon. Cook over medium heat about 5 minutes.
To serve, divide beef among serving plates or place on platter, top with sauce, and sprinkle with jalapenos and cilantro. Serve with ot flour or corn tortillas.