wyojess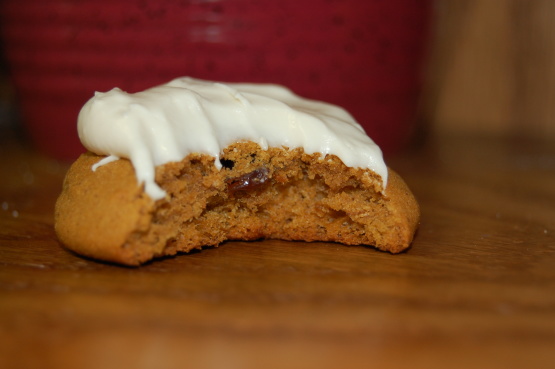 This is from the pumpkinnook.com The sound good, so I'm sharing them with everyone. You can use canned pumpkin if you don't have fresh pumpkin. The recipe does not say how many cookies can be made, but I'm going to make a guess below. If some one decided to make this recip, let me know how many cookies can really be made and I'll change it accordingly.

Followed your recipe right on down & got almost 4 dozen cookies, in case you want to change the indicated # of servings! I did use canned pumpkin (as I almost always do with things like this) & that worked out just fine! Loved everything about these little tasties, as did a couple of kids in the neighborhood! Thanks for sharing the recipe! [Made & reviewed as a THANK YOU for playing with us in Please Review My Recipe during the recent tour]
Preheat the oven to 375 f
Cream shortening and sugar together.
Mix in pumpkin, egg, and molasses.
Stir in dry ingredients, raisins and spices.
Drop by the spoonful onto an ungreased baking sheet.
Bake for 10 to 12 minutes.