Pumpkin Bread Pudding (Low Fat)
mikey ev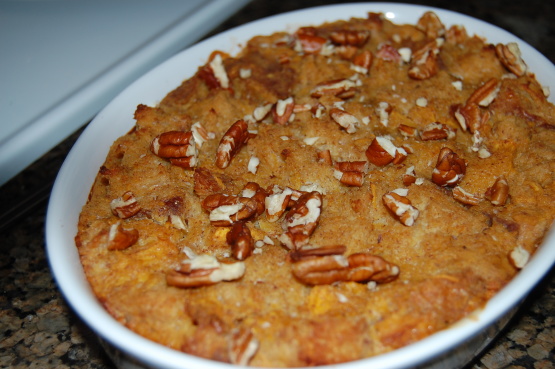 A delicious autumn dessert. Serve this either warm or cold with Yogurt Dessert Sauce. This recipe comes from The New American Diet cookbook.

What a great dessert. Enjoyed by the whole clan!
Preheat oven to 375 degrees.
Lightly oil a 2-quart casserole dish and set aside.
Crumble the bread by hand or food processor to make bread crumbs.
Combine the egg substitute, milk, pumpkin, brown sugar, cinnamon, spices and vanilla.
Fold in raisins and bread crumbs.
Pour mixture into prepared casserole and set dish in larger baking dish which has been partially filled with hot water.
Bake 1 hours or until knife inserted in center comes out clean.