Publix Chunky Chicken Salad
loof751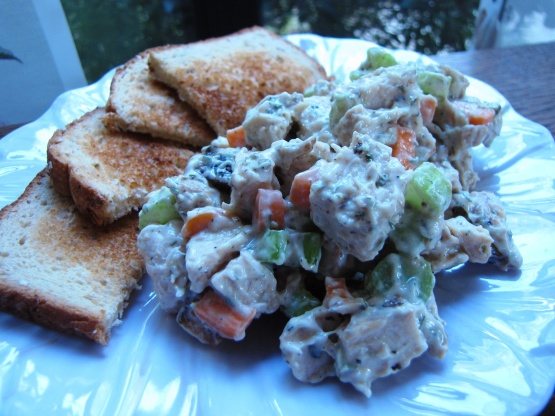 I got this a long time ago from the Publix Mayonnaise label. I think it is the same one they used to have in the deli there. This is great to take for potlucks, new moms, or grieving familes. I often double it. This is more of a salad to eat on a bed of greens and not so much to put onto a sandwich although I have put it into a pita before. Preparation time does not include cooking the chicken or carrots. Cooking time is the chilling time.

Never had Publix chicken salad but I think I've tried at least 60% of all the chicken salad recipes in the USA. I adore chicken salad. If it's on a menu somewhere, I'm gonna have to try it. And I make some type of chicken salad several times a month here at home. So, believe me when I say this is a really GOOD one! I did do as another reviewer mentioned and steamed the carrots briefly, otherwise, followed the recipe to the letter! This is going in my Special Recipe File and we'll have it often. Thanks for posting it!
Cook chicken however desired (I often poach in my steamer or bake). Cool and cut into large (about 1") cubes. Set aside.
In a large bowl, combine salt, basil, dill, lemon juice, white pepper, garlic and parsley with mayonnaise. Mix throughly.
Stir celery, carrots, onion and chicken into mayonnaise mixture. Mix well.
Cover and chill overnight or at least several hours before serving.