Protein-Powered Whole Wheat Pumpkin Muffins
jerison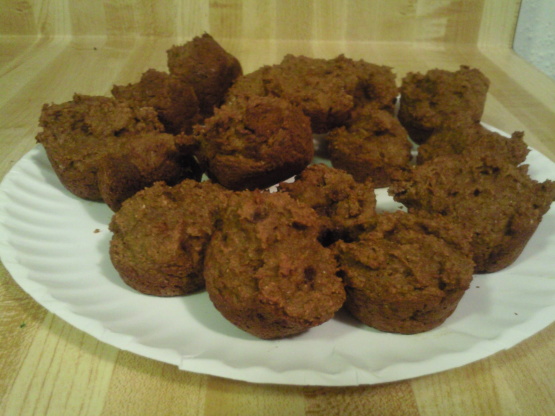 A modification of qotw13's recipe "Whole Wheat Pumpkin Muffins". Delicious and soft, unlike other "healthy" baked goods! *note* Protein powder used is 23 grams of protein per 1/4 cup, 46 grams total by 18 muffins is 2.56 additional grams of protein per muffin.

Perfect for a healthy muffin. I added extra spices of allspice and ginger. Also used butter and dark brown sugar. Mini-muffins cooked in oven for about 15 min (maybe less). The texture is great - lightyly crisp on outside and soft and moist on inside. I'm also trying this as a loaf - I'll let you know how it cooks... Thanks! My 2 & 3 year olds love them.
Cream together margarine and sugar.
Add applesauce, pumpkin, and spices. Mix well.
Add flour, protein powder, flaxseed and baking soda.
Preheat oven to 350°F Spray PAM or equivalent on muffin tray.