Prosciutto, Spinach, and Egg Pies
Nif_H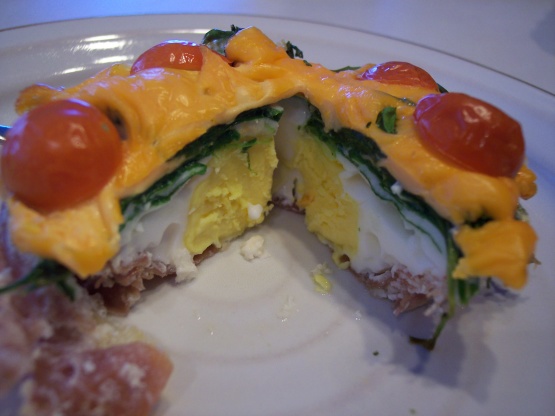 This is a Sarah Foster recipe. You could double this recipe to fill an entire 12 cup muffin tin. Fontina would also be great! You might even try a pesto before putting in the egg. Remember prosciutto is salty. Extra pies are delicious the next day. And if you substitute in pre cooked bacon, go ahead.

Top Review by Nif_H
I really liked the simplicity of this beautiful looking dish! I did let it sit for a few minutes after cooking and the yolk cooking through, but it was terrific anyway. I would probably take 5 minutes off the cooking time next time. This would be really nice to serve to guests as well. Made for Newest Tag. Thanks WiGal! :)
Preheat the oven to 350 degrees.
Lightly spray a 6 cup muffin tin.
Line the muffin cups with the prosciutto slices, pressing the prosciutto into the bottom and sides of each cup (the prosciutto slices will overlap each other on top of the tin).
Crack 1 egg into each cup.
Sprinkle the spinach over the eggs, then the Cheddar cheese, dividing them evenly.
Top each serving with 4 tomato halves and season with salt and pepper. Bake the pies for 18 to 20 minutes, until the egg whites are firm and the yolks are starting to set but are still soft in the center. Timing might vary due to oven differences and preferences.
Set them aside to cool for about 5 minutes.
Run a knife around the edges of each cup to loosen, then lift the pies out of the tin. Serve warm or at room temperature.