Princess Diana's Birthday Cake
heycake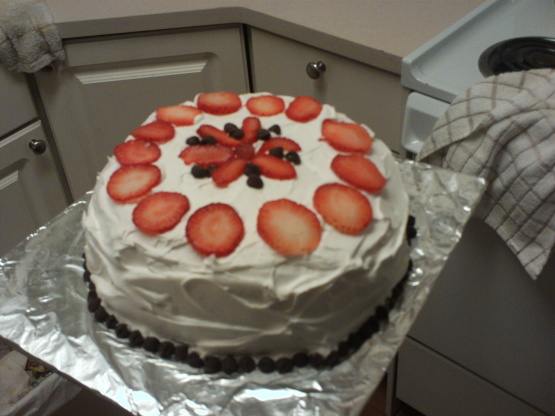 This recipe appeared in the February 1988 issue of Woman's Day magazine and was reprinted in our local paper today. According to the article, "Diana had a special fondness for this cake because it was served at her childhood birthday parties." The baked layers can be wrapped and refrigerated up to three days or frozen up to three months. Unwrap and bring to room temperature before assembling. Completed cake can be refrigerated up to four hours before serving.

Top Review by Kaarin
My first try making this cake I ended up with more of a dense pound cake, but my second effort was wonderful! I learned it is extrememly important to beat the batter the full two minutes (or more) after the addition of the sugar. The cake turned out light and fluffy, and was perfect with the strawberries and cream. I made this for my two year old daughter's birthday-she was thrilled! I garnished the perimeter with halved strawberries, and I must say, this cake is very worthy of my crystal pedestal. Thanks for suggesting this cake, Molly!
Preheat oven to 350F.
To make cake: Grease bottom and sides of two 8- or 9-inch round layer-cake pans.
Line bottoms with parchment or waxed paper; grease paper.
Add granulated sugar to each pan, tilt to coat bottom and sides; shake out excess.
Beat eggs in a large bowl with electric mixer on high speed until pale, about 1 minute.
Gradually add the 1 1/2 cups sugar, beating about 2 minutes (or more, as needed) until mixture is thick, tripled in volume and forms a slowly dissolving ribbon when beaters are lifted.
Working quickly, stir in water and vanilla.
Fold in flour mixture just until completely blended.
Pour into prepared pans.
Bake 30 to 35 minutes until tops are lightly browned and toothpick inserted near center comes out clean.
Cool in pans on rack 10 minutes.
Run thin-bladed knife between sides of pans and cakes to loosen.
Invert pans on rack; peel off paper and cool completely.
To make filling: Beat cream and vanilla in a large bowl with electric mixer until soft peaks form when beaters are lifted.
Gradually beat in sugar until cream is of spreading consistency.
To assemble: Slice each layer in half horizontally, using a long serrated knife.
Place one layer on serving plate, spread with 1 cup whipped cream, top with one-third of the sliced berries.
Repeat with two more layers.
Place remaining layer on top; spread remaining cream over sides and top.
Garnish with reserved berries.
Refrigerate until ready to serve.