diner524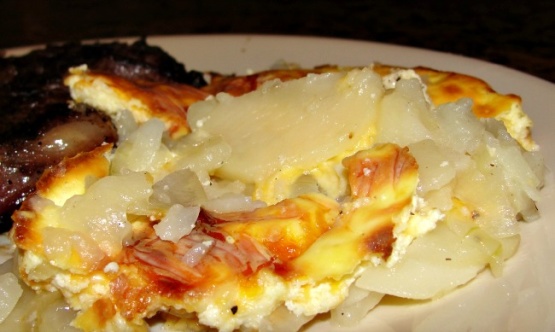 I made this to go with grilled pork chops and green beans and it was sheer perfection. I ate on it for four days.
Excellent potato recipe and very elegant as well!!! Not really thrilled with my photo, doesn't do the recipe justice, but I just know how tasty it is!!! We served it as a side to our grilled steaks and green beans. Once I put the sour cream topping on top of the potatoes, it really didn't blend/meld with the rest of the dish, kinda just stayed on top, so next time I would mix it all together and then bake it. Thank so much for sharing your recipe. Made and enjoyed for Photo Tag Game.
Saute onions in butter until golden.
In a deep, oiled casserole dish, layer 1/2 potatoes (sprinkle with salt and pepper), 1/2 onions and 1/2 jack and cheddar cheeses. Repeat layers.
Beat sour cream and eggs. Pour over top. Sprinkle with paprika.
Bake at 375 for 40 minutes.