Potato Cheese Croquettes With a Chipotle Sauce
Rita1652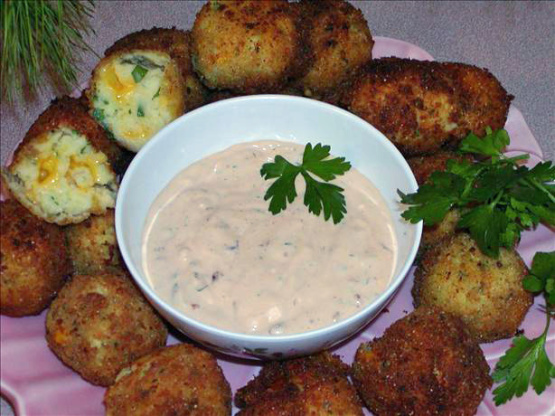 These crisp little balls have a creamy filling of potatoes, cheeses, fresh parsley, shallots. Along with a slightly spicy chipotle dipping sauce. A wonderful way to use left over mashed potatoes. Or an excuse to make extra mashed potatoes.
I am a BIG CHEATER! I used...GASP...instant mashed potatoes! One packet of Paradise Valley all natural creamy mash (4.8 oz) was just right (it's what they're selling at Costco these days). Instead of parmesan, I used some Gruyere I had in the fridge and doubled up (at leaast) on the dried chiptole. My husband, son, brother and nephew stood in the kitchen and ate them ALL before they made it to the table...next time, I will stand guard so there will be a few left for a photo. Thanks Rita L.
Combine the first 9 ingredients and blend thoroughly.
Form into 20 golf size croquettes.
Place seasoned flour in one bowl.
Beat eggs with milk and place second bowl.
Place bread crumbs in third bowl.
Dip each croquette in the flour then egg and then roll in the crumbs.
Fry in deep fat until golden brown.
While frying stir together dipping sauce ingredients and place in serving bowl.
Drain on paper towels and serve while very hot with chipotle sauce.
Garnish with fresh parsley.