Potato Cakes With Tuna Filling (Batata Charp)
COOKGIRl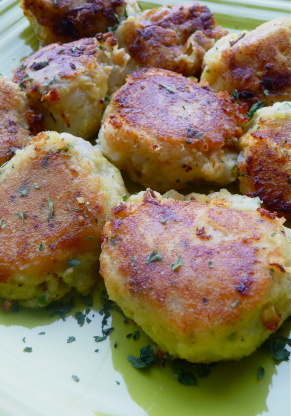 These are crispy fried potato cakes with a tuna and light vegetable filling that is just delicious. DH liked them with the tuna added though it is not traditional. If you prefer you can leave the tuna out for the original vegetarian version. I serve them with a corn free ketchup and plain yogurt to dip them in, sour cream would be good too. The original recipe is from the Iraqi section of The Complete Middle East Cookbook by Tess Mallos.

I was missing Bourek with tuna this year since I'm Gfree. This hit the spot. I didn't have rice flour on hand so I just use a very light dusting of cornstarch to give them a crust. Next time I will try some preserved lemon in the tuna filling. I served these with recipe #417096 and recipe #237271. I guess I should add that the recipe says to puree but I just boiled the potatoes until fork soft not mushy and then let them cool and broke them down with a fork. They were easy for me to mold into patties in my and and I didn't need to use an egg in the mixture. Made for Ramadan Tag 2010.
2

lbs potatoes (1 kg)

1

large egg, beaten
1⁄4 cup rice flour (to be gluten free, but plain may be used)

2

(6 ounce) cansgood quality tuna (I think they are 5 or 6 oz, just use the regular ones)

1

large onion, finely chopped

2

tablespoons oil (canola or light olive)

1

teaspoon turmeric

2

large ripe tomatoes
1⁄2 cup finely chopped parsley
Scrub potatoes and boil in their jackets until tender.
Drain, peel and mash to a smooth puree.
Leave to cool. Then blend in egg, rice flour or plain flour, sea salt and freshly ground black pepper, to taste.
Gently fry onion in oil until transparent, add turmeric and fry for a further minute. Remove from heat.
Peel tomatoes, halve crosswise and remove seeds and juice.
Chop finely and place in a bowl, add onion mixture, tuna, parsley, sea salt and freshly ground black pepper to taste.
(During shaping moisten hands with water to prevent potato from sticking.).
Take about a tbs of the potato mixture and flatten it in the palm of your hand.
Put a tsp of the filling in the center and close potato around filling.
Roll into a ball and then roll in flour and flatten to make thick cakes. Arrange on a tray.
Add oil to frying pan to a depth of 1/4 inch (5mm). Heat well and fry potato cakes until golden brown on each side - about 3 minutes in all.
Drain on paper towels and serve hot on a plate with your choice of condiments.