Portabella and Onion Topping for Hamburgers
Derf2440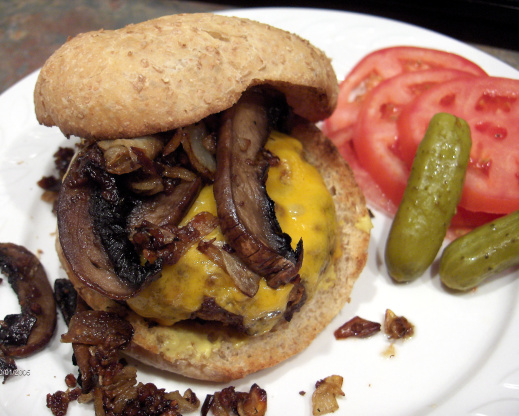 I made some burgers and thought I'd experiment a bit and came up with a wonderfully delicious topping for grilled or broiled burgers! Follow your favorite recipe for making hamburgers and top with this tasty combination. This works well for 4 burgers.

Nice tasty topping for our burgers, I used fried garlic from the Oriental store and just made half a recipe for the two of us; just one huge portabello. Also used aged cheddar slices; the touch of red wine was a nice touch, it added a lot of taste. We will probably use this recipe again, thanks for sharing.
Heat Oil in a non stick skillet.
Add garlic and sautée for one minute.
Add Spanish onions and cook until almost translucent.
Add sliced portobello mushrooms and sautée until cooked and reduced, about 10 minutes on medium heat.
Add optional red wine or cooking wine, mix well until reduced.
Set aside once finished.
When burgers are almost ready, top with portabello mushroom mixture and a slice of cheese, continue grilling or broiling until cheese is melted.