Pork Ribs BBQ(Toeji Kalbi Kui)
Peter J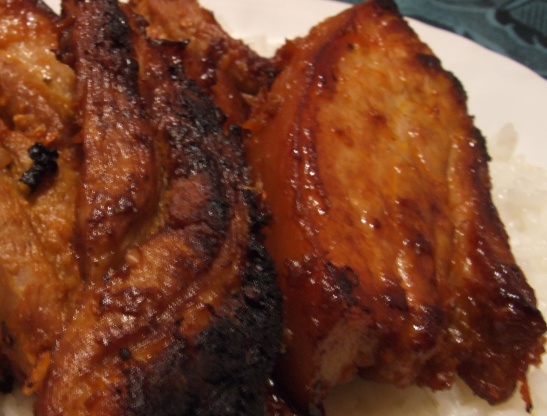 Found for the Asian Forum Tour... these ribs are double marinated. Oh boy!!! Cooking times do not include many hours of marinating.

Boy these are good! I've never tried double marination before but leaving it in the strong wine / ginger marinade first tenderized the meat more than if it was done all in one step. The chili paste I was using was a very hot variety so the only change I made was to omit the chili powder. I cooked in an oven but kept it near the top element initially to give a grilled effect.
Cut the ribs into 2 1/2" lengths. Remove excess fat. Make knife marks on the meat.
Marinate the prepared pork in rice wine and ginger juice several hours in the refrigerator.
Prepare the sauce by mixing chili powder, soy sauce, sugar, minced garlic, green onion, sesame salt, pepper and sesame oil in chili paste.
Marinate the once-marinated pork in the sauce.
Grill the pork in high heat by turning it often. To make sure it is thoroughly cooked, lower the heat and cook slowly.