Pork Chops With Apples and Swiss
Derf2440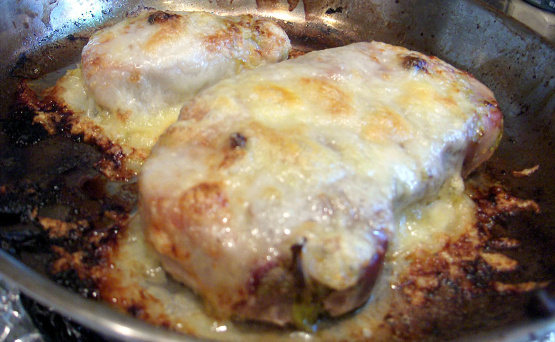 I was looking for pork chop recipes after buying some (we don't eat them, really) and I stumbled across this. I haven't made it yet.

Very good pork chop supper, the apples really make the recipe! We loved the cheese on the chops but were surprized that they were a bit on the bland side, if not for the apples. I will be making them again but I will try a stronger type of cheese. all and all a very nice recipe. thanks for posting.
Preheat the oven to 375F and butter a baking pan.
Press a clove into each chop, then add the chops to the pan, followed by the wine, celery leaves, and bay leaves. Bake the chops for 30 minutes.
Meanwhile, heat the butter in a frying pan and saute the diced celery for 5 minutes, tehn add the apples and brown sugar. Turn the heat to low and cook for 10 minutes, or until just tender.
After 30 minutes, remove the pork chops, discard the bay and celery leaves and sprinkle cheese on each chop. Baste with juices and broil a few minutes to brown. Add a few pan juices to the apple-celery mixture, and serve as a side with the pork chops.