gailanng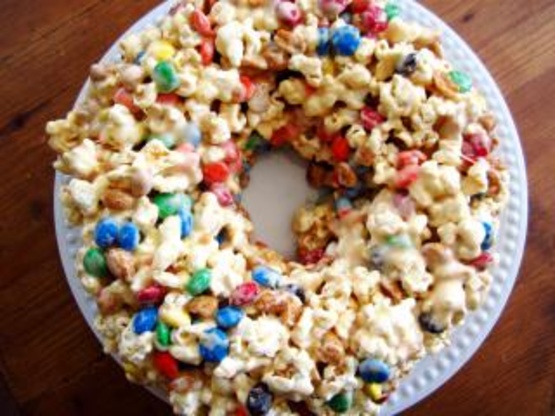 This is so different from your traditional "cake." It's like a snack mix made into a cake! Uses popped popcorn, M&Ms, caramels and peanuts. This recipe was titled Patriotic Popcorn Cake because it used red, white and blue M&Ms, but there are so many other possibilities! Use pastel M&Ms to make an Easter cake, red and green M&Ms for a Christmas cake, all pink or all blue M&Ms for a baby shower cake, assorted colors for a circus theme...you get the picture!

Turned out beautiful and tasted amazing. Now I did do one thing different, but I doubt it changed much. Instead of the caramels I used a bag of caramel balls, same thing really just pellet sized for melting faster and no need to unwrap. I used a whole bag and I found them next to the morsels in the baking aisle.
Place the popped popcorn in a large bowl or roasting pan.
In a saucepan, combine the marshmallows, caramels and butter. Heat on low until melted, stirring occasionally.
Pour the caramel mixture over the popcorn and mix well.
Working quickly so that it doesn't harden too fast, stir in peanuts and M&Ms.
Press into a well-greased 10-inch tube pan. Cool until firm.
Remove from pan and cut with a serrated knife.