WiGal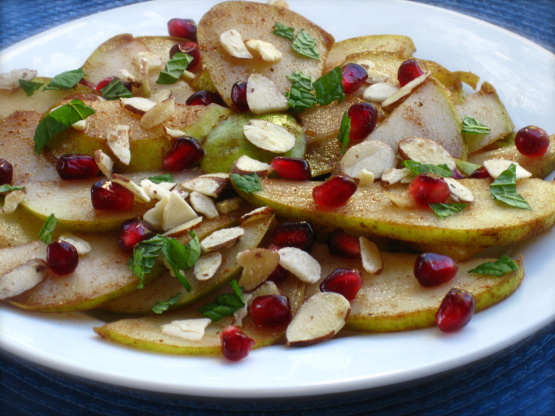 AWESOME. . .love this stuff. I buy the pomegranate seeds ready to go at Trader Joe's, but if you don't have the luxury of a TJ's nearby, here is a great tip for peeling pomegranate -- score the skin of the fruit and submerge in a bowl of cool water, peel underwater - the seeds will fall to the bottom, the peel and that papery membrane stuff will float to the top and can be skimmed off. Note that cooking time is marinating time. Found on Let's Eat.

Top Review by WiGal
Healthy, delicious, and love those colors--especially the ruby colored pomegranate! The combination of flavors is very nice. Had ours for dessert tonight and b/c I only had one pear reduced it to 1.25 servings. I did use fewer pomegranate seeds than you suggested. I always use the water technique for harvesting the seeds and then I freeze them in small portions. Thank you January Bride for sharing another keeper.
Place the sliced pears and pomegranate seeds into a bowl. Toss with lemon juice to coat.
Combine the brown sugar, nutmeg, and cinnamon in a small cup or bowl, then mix into the fruit.
Cover and refrigerate for at least 1 hour before serving to blend the flavors. Serve in individual dishes, and garnish with a sprinkling of chopped almonds and a sprig of mint.