awalde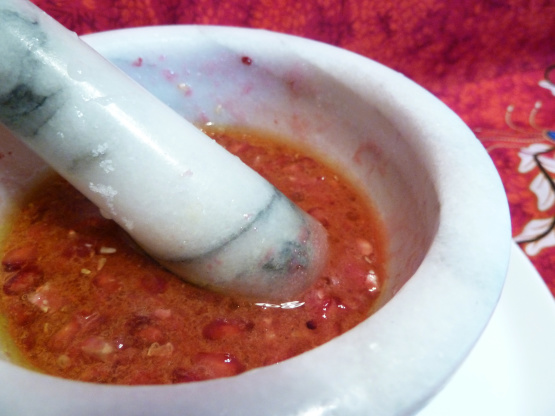 Pomegranates are full of skin preserving antioxidants, while white cane sugar provides a natural form of glycolic acid to help dissolve and puch away dead skin cells, says David Klass, the co-founder and president of Archipelago Botanicals and this scub is similar to their Archipelago Botanicals Pomegranate Body Scrub! This comes via Better Homes & Gardens magazine.

Top Review by awalde
I love natural cometic product!
Pomegranate contanins exfoliant enzymes that makes you skin soft and clear (search in web under "pomegranate enzymes exfoliator"). Sugar (or even salt) increases the effect mechanically. Oil (I used pure olive oil) works as balsam. What do you want more?
I suggest to prepare this scrub just before use it as sugar melts very fast! In this case the half of the quantity is enogh for me.
Thanks a lot for this recipe.
1⁄2 cup pomegranate seeds
1⁄2 cup white unbleached cane sugar

2

teaspoons oil (such as avocado, sunflower, or vegetable oil)

1 -2

drop essential oils, use your favorite-if you don't have any perhaps use a little vanilla (optional) or 1 -2 drop almond extract (optional)
In a small bowl, mix the sugar and pomegranate seeds, crushing both with a spoon.
Add the oil and mix.
The pomegranate will scent the scrub, but if you want more scent, add a couple drops of your favorite essential oil.
Massage gently onto damp skin. There should be enough for a full body scrub. Rinse off.