Ms B.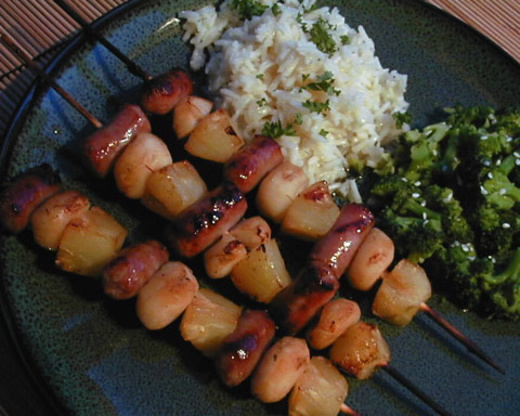 This is a quick and simple grill recipe. The flavor is slightly sweet, but can be kicked up with a spicy sausage choice. It is important to use fresh, not pre-cooked, sausage for this recipe.
Glaze:.
Mix all ingredients together and set aside.
Kabobs:.
Soak twelve 6 to 8 inch wooden skewers in water 30 minutes.
Preheat grill to medium heat.
Alternate sausage, water chestnuts and pineapple on skewers.
Coat kabobs with glaze.
Cover and grill kabobs about 4 inches from heat for about 10 to 12 minutes, turning and brushing with glaze once, and until sausage is firm and light brown.