Polentina With Bananas and Maple Syrup
PaulaG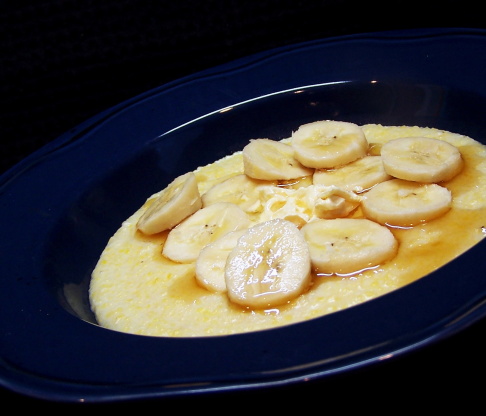 We have hot cereal 3 to 4 times a week and so we don't get tired of the same old thing, I look for variations. I found this recipe on the Williams-Sonoma website. The recipe serves 4 and if you are cooking for 2 leftovers are easly warmed and if necessary thinned with a little extra milk.

This one was certainly different, I liked it though. I really loved the mix of bananas and maple syrup, it's the flavor of the cornmeal that I need to get used to. I think that I will try this combination out on oatmeal and cream of wheat sometime though. Thanks for the recipe and ideas.
Over medium heat, in a large, heavy saucepan, combine 1 2/3 cups of the water and milk along with the sugar and salt; bring to a boil.
Reduce the heat and when the liquid is barely simmering; whisk, in the same circular motion, polenta in a slow, steady stream until all the grains have been absorbed and the mixture is smooth and free of lumps.
Reduce heat to very low and with a wooden spoon stir thoroughly every 1 to 2 minutes or until the polentina is loose and creamy, about 10 to 15 minutes.
Add additional water and milk as necessry; the mixture should be very liquid.
Ladle into individual bowls, top with the sliced bananas and drizzle with the warmed syrup.
Drizzle with melted butter if desired.