Prep 10 mins
Cook 50 mins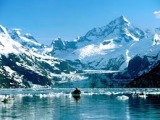 This is a very basic polenta with the addition of fresh summer corn! It gives you a double hit of corn. Yum. You can cut the leftovers into squares and fry them topped with Parmesan. Recipe is courtesy of Gwyneth Paltrow. :) Note: You can make this even easier by using instant polenta, following the box directions, then adding the corn, milk, cream, salt, pepper and chives.
Directions
Bring the water to a boil in a pot. Slowly whisk in the polenta and a pinch of salt. Turn the heat down as low as it will go and put a lid on the pot, slightly ajar, and cook the polenta for about 40 minutes, stirring every 5-10 minutes.
Add the corn, milk and cream and cook another 5 minutes.
Season with salt and pepper, to taste, and sprinkle the chives on top.
Reviews
Most Helpful
Oops, I just realized I forgot the cream! It was fabulous anyway! I used regular cornmeal & it cooked up in about 15 minutes. I added a few TBs of butter to the finished dish. We ate it ALLLL. So good. I *was* planning to top each serving with a poached egg but ran out of time & ambition. ;) Made for Culinary Quest 2014/CCQ.
This was my first time making and eating polenta. This was very easy to make and made an excellent base for Easy Italian Sausage, Peppers and Onions for a Crowd or a Few. The polenta was creamy and tasty. It is winter here so there was no fresh corn available. I had to substitute frozen corn, but it still turned out great. Made for February 2012 Aus/NZ Swap.

Yummy! I quartered the recipe and used soy milk instead of the cream. Great way to start the morning! Thanks! Made for PRMR game.