Poached Salmon With Cucumber Sauce
Nif_H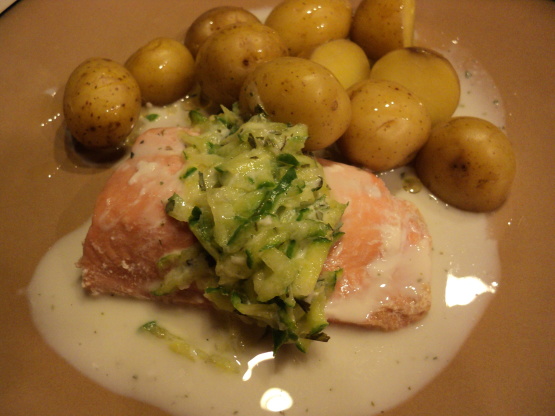 I'm on orders to eat fresh salmon at least once a week or preferably two or three times so always on the lookout for something fresh and easy and this recipe from Australian Good Food seems to fit the bill.

Top Review by Nif_H
This recipe was quite good and very healthy. It was easy to do as well, so it was nice to throw together after work. The flavours of the sauce was good but there was a lot of it and it was very liquidy. There were also an awful lot of potatoes. Some tweeks and this recipe would be top notch! Made for Went to the Market tag. Thanks Pat! :)
Preheat oven to 200C or 180C fan forced.
Place salmon in a baking dish and pour over stock and season, cover with foil and bake for 10 to 15 minutes o until just cooked through.
Remove from oven and cool salmon in stock for 10 minutes.
Remove the salmon from the stock.
Add sour cream, cucumber, wine and tarragon to stock and whisk to combine, season and transfer to a jug.
Meanwhile steam potato over a saucepan of simmering water for 8 to 10 minutes or until tender.
Place salmon and potato on plates and top salmon with cucumber sauce and tarragon leaves and drizzle oil over potatoes and season and serve.