Chef Oz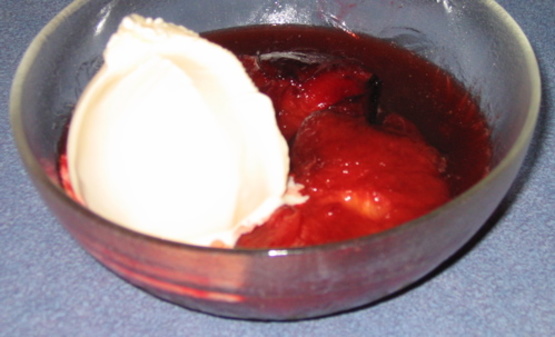 When fresh plums are at their best, try this heavenly recipe. I could eat it every night! Thanks to English food writer, Delia Smith, for the original recipe which I have adapted.

Yum - plums, marsala and cinnamon are a fabulous combination. We had it with ice cream which was great. If you don't like desserts too sweet, I would go for cream instead. I didn't bother thickening it with the arrowroot as it was fairly thick already. My only reservation is that is might take a bit of work to make it look 'elegant' as most of my plums fell apart.
Preset oven to 180C (350F).
Cut plums in half and remove stones.
Place plums, cut side up, into a rectangular baking dish- corningware, pyrex or similar.
In a large jug, combine Marsala, vanilla, cinnamon, sugar and lemon rind.
Mix well then pour this mixture evenly over the plums.
Bake on the centre shelf of the oven for 40 minutes, turning plums over after 20 minutes.
Remove from oven and strain liquid into a small saucepan.
Remove the lemon rind and discard.
Make a paste with the arrowroot and a little water and add to the juice in the saucepan.
Place pan over a medium heat and cook, whisking constantly, until it reaches simmering point.
Simmer sauce for about 5 minutes until it is slightly thickened and glossy- it will thicken more as it cools.
Pour the liquid back over the plums.
Serve plums hot or cold with cream or ice-cream.