Pistachio and Quinoa Tabbouli (Gluten-Free)
JustJanS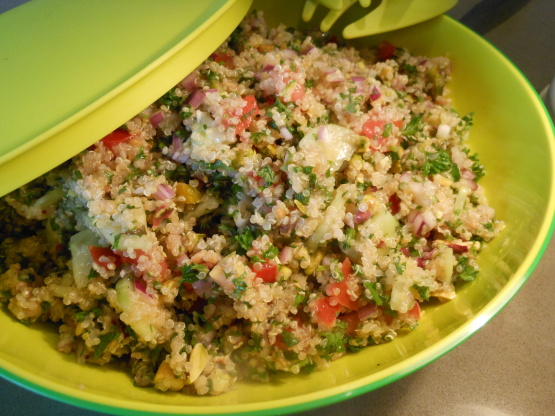 Quinoa is low in GI, gluten-free and rich in nutrients and protein- it's a great addition to a gluten-free diet. Serves 4-6 From "Low GI Gluten-free Living" cookbook ( page 141) and suggested can be served in lettuce cups, gf wraps, as a salad side or suitable salad for a barbecue.

Delicious thanks Jubes. I really loved the addition of pistachios and zest to the recipe. I cooked my quinoa in stock and used a couple of tablespoons of olive oil (you forgot it in the ingredients, but I spotted it in the method). Our three year old grandson gave the salad the thumbs up too !!
Wash quinoa well and add to a medium saucepan. Cover with 2 cups (500 mls) of water and bring to the boil. Simmer 10 to 15 minutes or until the grains are just tender and translucent and all the water has been absorbed. Remove from heat and rest, covered for 5 minutes. Fluff with a fork.
Meanwhile, whisk together the lemon juice, finely grated zest of the lemon and the oil. Season to taste.
Transfer the warm quinoa to a serving bowl. Add all remaining ingredients and the lemon dressing. Mix well to combine and serve.