a hit for a the party held for the ladies
Make and share this Pink Panties recipe from Food.com.
Directions
In a blender, combine pink lemonade, gin, ice cream, strawberries and ice.
Blend until smooth.
Pour into glasses and serve.
Reviews
Most Helpful
Wowee! This is so wonderful that you ladies should have a party just to try it! In place of frozen strawberries, I used Strawberry Sorbet. Thanks, Queen Shay! Made for PAC Fall 08.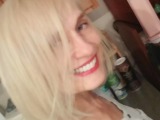 I have always LOVED this drink but never had it with Strawberries. OMG, it took the flavor to another level! Thanks ♥
Oh, my, Good!! I used fresh strawberries,sliced and vanilla ice cream. I made it in two batches one with gin and one without. They are both good! And everyone enjoyed. A toast was made "Well, Bless my Pink Undies" Made for PAC Fall 07.