lazyme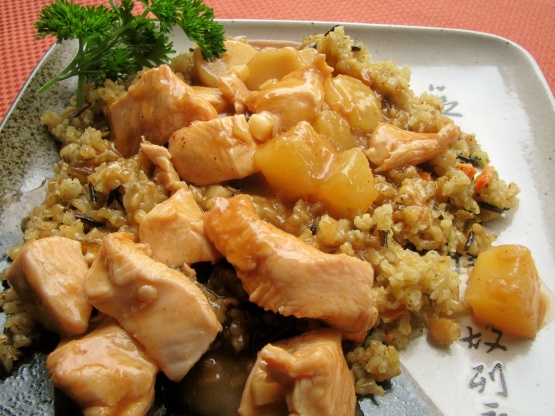 I haven't tried this yet, but I am definitely going to keep this in mind when I want something sweet or fruity for dinner! :)

I made this recipe tonight with a few modifications. I added about half a red onion sliced and a tablespoon of soy sauce, and I added a bit more orange juice while it cooked because the sauce seemed to be thickening up too quickly. I also added fresh black pepper just before serving. Like another reviewer, I was worried while cooking because I didn't think it smelled like it was going to taste good, but it was delicious served over some rice. I will make it with the onion & soy again next time. Nice simple dish.
In a large saucepan, combine the first 6 ingredients until smooth. Bring to a boil. Then reduce heat and simmer for 2 minutes stirring occasionally.
Add the chicken, pineapple, water chestnuts, and ginger.
Cover and simmer for 10 minutes. Serve over rice or whatever side dish you'd like!