Annacia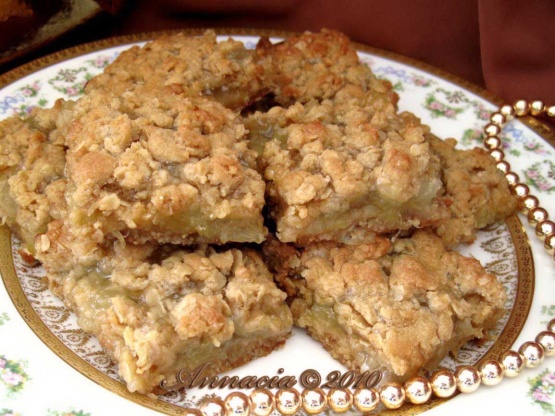 Received this recipe in an email; the picture sold me. Could also add a little coconut to give it that "tropical" flavor. Posting for future use... *cooling time not included in prep/cooking times*

Forget the calories, these were delicious, and flavorful. I did add less than an 1/8 of a cup of coconut, as suggested, and they were gone, after an after school snack, and a dessert. Though they were a tad gooey, when cooled, Sticky might be the better word, we had no problem devouring these. Something to make in the future forn the kids lunches at school, or to one of my hospital volunteer meetings. Made for Zaar`Stars.
Pineapple Filling:
Mix 1 cup crushed pineapple and juice (8 1/4-ounce can), 1 cup sugar, 2 1/2 Tablespoons cornstarch, 1 Tablespoon butter, and 1 cup water in saucepan.
Cook until thickened, cool.
Preheat oven to 400 degrees F (200 degrees C).
Cream together shortening and sugar thoroughly.
Stir in flour, baking soda and salt.
Mix in rolled oats.
Press and flatten half of the mixture over bottom of a 13 x 9 1/2 x 2 inch greased pan.
Spread with cooled filling.
Top with remaining crumb mixture, patting lightly.
Bake 25 to 30 minutes, or until lightly browned.
While warm cut into bars and remove from pan.