Linajjac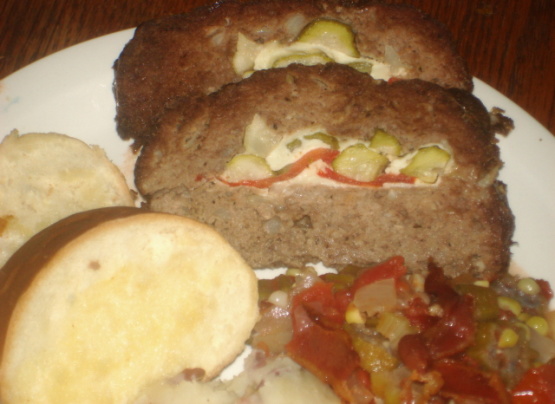 This is like an inside-out burger. Make this and your house will fill with a mouth-watering aroma! www.ilovepickles.com has uniques recipes that use one of my favorite food groups: pickles! Flavor & color get a boost with tomato slices, mushrooms and mozzarella cheese. Depending on the pickles you use, the additional salt may be omitted. If you prefer, add 1/4 teaspoon (or more) of garlic powder.

My Dh made this for dinner tonight. It was very good. The oregano an basil were a touch strong. Mabey next time he said he would just try to use 1 or 1 1/2 tsp of itl seasoning. It stayed together nicely and didn't dry out. We did add filling to the top, just layered the same ingredients to the top the last 15 minutes. Was very tastey. My DD ate 3 pieces (2 were ends), so thats saying something, she never has seconds unless it's that good. Thanks for the post & the keeper. Jules
Preheat oven to 350°F.
In large bowl, beat together eggs, breadcrumbs, milk, onions, oregano, basil, salt and pepper.
Add ground beef and combine.
Place half of ground beef mixture into bottom of roasting pan and mold into a loaf approximately 3 inches wide and 7 inches long.
Fold 2 slices cheese in half and lay lengthwise down center of loaf.
Top with 3 pickles, mushrooms, tomato slices and remaining pickles.
Fold remaining slices of cheese in half and place on top of pickles.
Mold remaining meat mixture on top, making sure all stuffing is covered on all sides, as well as top.
Cover and bake for 20 minutes.
Uncover and bake 40 to 50 more minutes, or until meat is no longer pink on the inside.