Redsie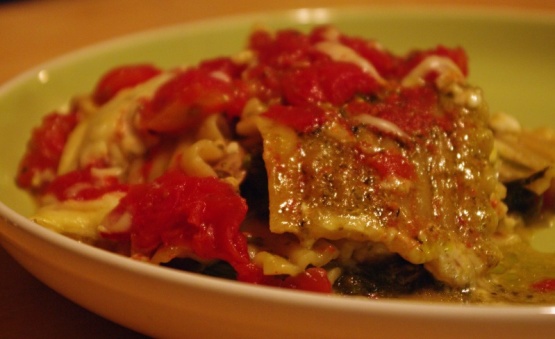 From BHH's Biggest Book of Italian Recipes. Can't wait to try it!!

Top Review by karen
What a wonderful lasagna! I love pesto, spinach & mushrooms, so you can't really go wrong here for me. I did find that using the springform pan to be a bit extravagent...presentation just isn't that important to me...so I made it in a 9x13 pan. I sprayed the 9x13 pan with olive oil cooking spray, and then followed the layering directions. This pan size only needed 11 noodles. The whole wheat lasagna was tasty, but I'm sure it would be fine with regular too. I did substitute frozen chopped spinach (20 oz) for the 2 cups of fresh spinach, and probably used a little more pesto & mushrooms than listed (I didn't measure). I do think it would be helpful to split instruction #3 into several steps, one for each layer. I kept loosing my place and putting things in the wrong order, and then having to pull up noodles and backtrack. I also found the ricotta mixture challenging the spread over the spinach, but it still turned out great. Oh, and salt & pepper needs to be listed in the ingredient list. Definitely a crowd pleaser and a great vegetarian main dish what worked well for my dinner party. Next time I'm going to try it with homemade pesto!
Preheat oven to 375°F Cook lasagna noodles according to package directions. Drain lasagna noodles; rinse with cold water and drain well. Lay lasagna noodles in a single layer on a sheet of foil.
In a medium bowl, combine egg, ricotta cheese, 1 cup of the mozzarella, 1/4 teaspoon salt and 1/4 teaspoon black pepper; set aside.
To assemble pie, lightly coat a 9-inch sprinform pan with nonstick cooking spray. Arrange four of the lasagna noodles in the bottom of the pan, trimming and overlapping as necessary to cover bottom of pan with one layer of noodles. Top with spinach. Spoon half of the ricotta cheese mixture over spinach, spreading evenly. Spoon one-third of the pesto over ricotta layer, spreading evenly. Top with another layer of lasagna noodles, trimming to fit. Top with mushrooms. Spread remaining ricotta cheese mixture over mushrooms. Spread half of the remaining pesto over ricotta layer. Top with another layer of lasagna noodles and remaining pesto. Top with tomatoes.
Place sprinform pan in a foil-lined shallow baking pan. Bake, covered, for 45 minutes. Uncover and sprinkle with remaining 1 cup of cheese. Bake, uncovered, for about 15 minutes more or until cheese is melted and lasagna is heated through. Cover and let stand on a wire rack for 20 minutes before serving. Carefully remove side of springform pan.