Prep 10 mins
Cook 30 mins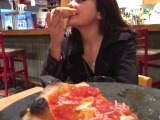 This is a great sauce for pasta. We like cappelini, penne, or fettucini. Add shrimp or crawfish for a complete meal with a crisp green salad and some hot, buttered French bread. I make my own pesto and freeze in ice cube trays. This recipe calls for 2 cubes. Enjoy!
Directions
Heat a large skillet and then add the butter and oil.
Over medium heat, saute the shallots and garlic until soft.Do not get the heat too high or the garlic will burn.
Add the wine and the chicken broth and season with the salt and pepper.
Reduce in half, stirring occasionally.
Add cream and pesto and incorporate well.
Lower the heat and add 1/4 of the cheese, stir well.
Then add another 1/4 cup of the cheese and when that is incorporated, add the pasta.
Toss well and serve.
Accent well with the remaining cheese.
Reviews
Most Helpful
Trinkets, this is fabulous!!! yes, next time I'll try adding shrimp, mm, to die for! but, just as is, excellent, restaurant quality, we loved it, DH was Very vocal about how good it was!! I used red pepper pesto, had it in the fridge and was dying to try it out, now I want to do it with regular basil pesto! Just at the end I added a sprinkling of red pepper flakes as well, but very little, too much would alter the exquisite taste of this sauce. The texture was perfect. I used penne, cooking them al dente and then tossing them in the sauce.

Wow, new favourite, thank you Trinkets!!!

I made this as posted today and it was delicious! I can just imagine it with crawfish or shrimp...can't wait to try it that way. My sauce didn't get as thick as I would have liked, but that was probably my fault....I may not have reduced the broth wine mix enough in that step. Thanks for a fabulous lunch today!