Perfect Easy Microwave Applesauce
Boomette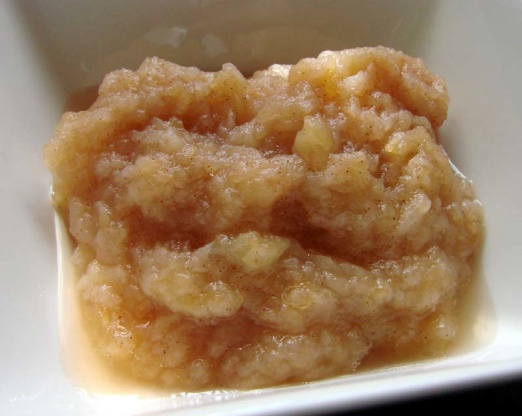 This applesauce freezes wonderful!

Used recipe as posted except replaced sugar with natural sweetener (Truvia) and a hand held blender. Stored in small plastic container for daily use or lunches.
1⁄2 teaspoon cinnamon (optional)

1

pinch nutmeg (optional or to taste)
1⁄4 cup water or 1⁄4 cup apple juice

3 -6

tablespoons sugar (or to taste add in more if you prefer sweeter, can use brown sugar if desired)
Peel, core and slice the apples.
Place apples in a large microwave-safe bowl.
Add in 1/4 cup water, cinnamon (start with 1/2 teaspoon) and nutmeg, if using; stir to combine.
Cover with heavy microwave-safe plastic wrap (leave a little side opened to allow steam to escape).
Microwave on HIGH power for 10 minutes.
Remove the bowl and stir the apples, then contine to microwave uncovered until apples are very tender (about 5-6 minutes longer).
Using a large fork (I use a potato masher for this) coarsley mash apples to desired texture.
Add in sugar to taste while the apples are still hot; mix well to combine.
Bring to room temperature and then refrigerate for up to two days, or freeze in plastic freezer containers.