Peppers and Black Beans on a Bed of Crunchy Tortilla Strips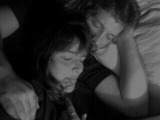 4 corn tortillas, Julienne and deep fried to crisp
1 red pepper, seeded and sliced Julienne
1 yellow pepper, seeded and sliced Julienne
2 jalapeno peppers, seeded and sliced Julienne
1 (6 ounce) can black beans, drained
2 tablespoons cilantro, chopped
1⁄4 cup olive oil
2 tablespoons lime juice
Directions
Place Tortilla strips onto a large platter or individual serving dishes.
Toss peppers, beans, and cilantro in a large bowl.
Add the olive oil and lime juice. Toss lightly.
Place pepper/bean mixture on top of tortilla strips.
Serve immediately.
Reviews
Most Helpful
This is a fun easy messy salad! I used a 15 ounce can of black beans that I rinsed and drained. I wish I had cilantro for that would be perfect in this. I did use parsley. I kicked it up with sliced onion, chopped garlic, and cumin. I would suggest the peppers to be diced more the size of the beans for a more uniform salad and an easier salad to eat. Love the crunchiness of the tortilla chips. This would also be fun if the tortilla`s were cut into chip size and the bean salad would be scooped up with them. Thanks for the yumminess and fun.