Nimz1466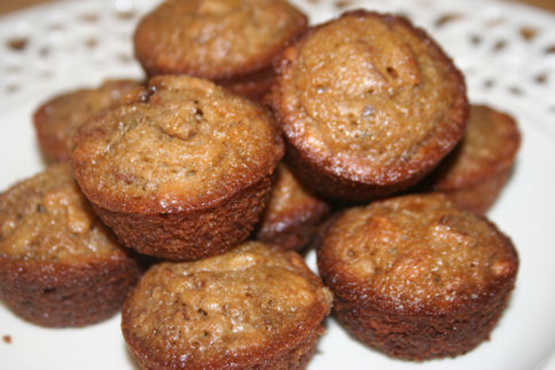 If you love Pecan Pie you will love these muffins! I make these muffins at least once every two weeks! I take them to work and to Church. Everyone loves them...you will too!

Easy and yummy, I was aprehensive about the lack of chemical leveners, but was pleased with the results. Nice crust and a slightly chewy texture make these special. I toasted the nuts before grinding and used dark brown sugar. Next time I''ll try light brown sugar as I thought the molassas flavor was a bit too strong with the dark brown. -- update. Tried the light brown sugar. Taste was a bit more rounded with less molassas. Also baked another batch in mini muffin tins without any foil liners -- 400 degrees f, 15 mins. The nice crust is now all around and no more messy liners to unwrap
Combine first 3 ingredients in a large bowl, make a well in center of mixture.
Beat eggs until foamy.
Stir together eggs and butter; add to dry ingredients stirring until moistened.
Place foil-baking cups in muffin pans.
Spoon batter into cups to 2/3 full.
Bake at 350 degrees for 20-25 minutes or until done.
Remove from pans immediately, cool on wire racks.
Best served warm.