Pecan Maple Bagel Schmear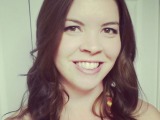 I don't really like plain cream cheese on my bagels, so I made some of this! I use reduced fat cream cheese because the consistency is naturally softer, even when cold. Plus, it tastes just as good as the regular stuff. I have used regular, softened cream cheese, and added a tablespoon or two of milk to adjust the consistency.
Directions
Combine all ingredients in a medium bowl; beat until thoroughly mixed.
Feel free to add more syrup for a stronger flavor.
To thin out regular cream cheese, add in milk, 1 tbsp at a time until desired consistency is reached.
Reviews
Most Helpful
This is delicious and easy. I used my KitchenAid mixer with the whip. Worked out well. I didn't need to add any milk even though I use regular cream cheese. Even though I normally prefer savory spreads on bagels, I would probably make this again.

I made this to use up some of the reduced fat cream cheese I bought by accident. It turned out really yummy, I couldn't tell it was "fake" cream cheese! A nice change from the honey-almond thing I usually do. Thanks for a new way to enjoy bagels!

When I saw this recipe I thought it looked really yummy....and it is! It only takes a few seconds to make and it just adds that extra something to your morning. Thanks! So good!