Pecan and Chocolate Squares
sprue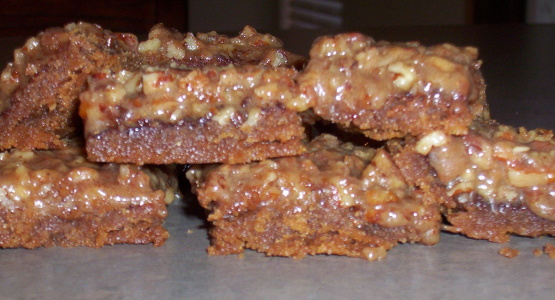 Definitely a must-try! By Paula Disbrowe, David Norman, from Fine Cooking issue #70.

Top Review by sprue
these were extreemely sweet and buttery. so beware. i would cut a lot more butter and sugar out if i made them again. also the whole thing was bubbling after about 8 minutes but i kept them in for about 14 min but you need to leave them in the full time.. mine were a little runny when cooled and cut. i only put chocolate on half (i have some chocolate haters) but it is a must since it is bittersweet chocolate it cuts down on the too sweet taste.. though doesnt lend a very strong chocolate flavor.
Make the cookie base: Position a rack in the middle of the oven and heat the oven to 350ºF. Put the butter in a food processor, along with the flour, light brown sugar, cinnamon, and salt. Pulse until the mixture is well combined (about 20 pulses). Scatter the dough into a 9x9-inch baking pan and press it evenly over the bottom. (Wipe out the processor bowl but don't bother washing it.) Bake the base until firm and lightly browned, about 25 minutes. When the cookie base comes out of the oven, sprinkle the grated chocolate evenly over the top. (Don't turn off the oven.) Set the pan aside.
Make the pecan topping: As the cookie base bakes, pulse the pecans in the food processor until coarsely chopped. In a medium-size heavy saucepan, melt the butter. Stir in the dark brown sugar, honey, cream, and salt. Simmer for 1 minute, stirring occasionally. Stir in the pecans. Pour the pecan mixture over the chocolate-sprinkled cookie base, spreading evenly. Bake until much of the filling is bubbling (not just the edges), 16 to 18 minutes. Let cool completely in the pan. When ready to serve, cut into 16 squares. Tightly covered, these bars will keep for about five days (though they never last that long).