Peanut Butter Doggie Cookies
PaulaG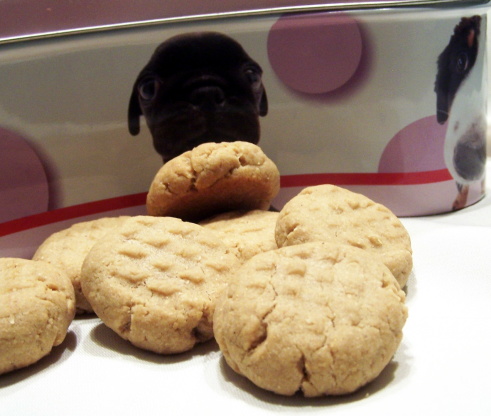 I wanted to give all the puppies in my life a special Christmas present. I came up with this recipe. My dogs love it so much they will lick the crumbs off the floor.

Thank you for posting this recipe. This is a very simple and easy to make dog treat. I made the first batch when you sent me your recipe by request and then another last night. The results are the following: 5 Woofs from Jeronimo, Sheba, Dutches and Bandit, and 4 stars from me. It was a tad too dry for my taste but a beer and heh...majority rules so I guess we'll have to go with the 5 Woofs (I mean Stars). Next time tho' I think I'll add a little garlic (that's for me...LOL.). Thanks again for the recipe. Chuck
Preheat oven to 350 degrees.
Mix all ingredients together.
Shape into walnut size balls and place on ungreased cookie sheet.
Press criss cross into each ball with fork.
Bake for 20 minutes.
Let cool completely.
Feed to your special puppy.