Peanut Butter Apricot Cookies
Vye367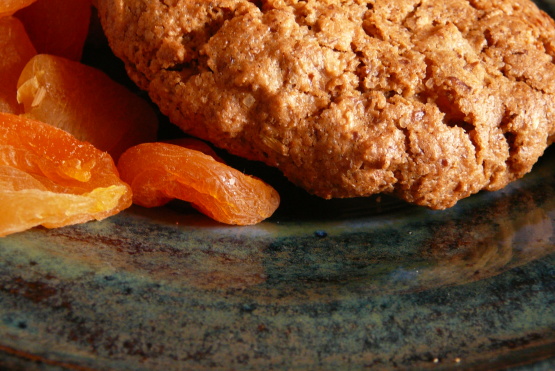 I made these to grab as a healthy and YUMMY breakfast. I've gotten into the habit of dippng dried apricots in peanut butter; this is my portable version! They can also be made vegan by using an egg substitute for the eggs.
I really like this recipie, it's so tasty. I've now settled on a verion that skips the cinnamon (which I'm not fond of) and I use Spelnda brown sugar mix. (I'm trying to control carbs and the Splenda helps with that.) Thanks, Vye, for such a great recipie!
Preheat oven to 350 degrees.
Grease a cookie sheet and line it with parchment paper.
Whisk together dry ingredients.
Blend wet ingredients until as close to smooth as possible.
Mix dry ingredients with the wet mixture until fully incorporated. The batter will be thick and sticky, so it would probably be easiest to do this with a fork or mixing spoon.
Stir in the oats and apricots.
Form into balls and flatten onto parchment paper. Again, this is easier to do with wet hands.
Bake for about 15 to 20 minutes or until the tops look golden (don't wait for them to brown or they will be too hard when they cool).
To store (and for transportation purposes), I like to wrap each cookie in plastic wrap. Voila! Bakery-style!