Swirling F.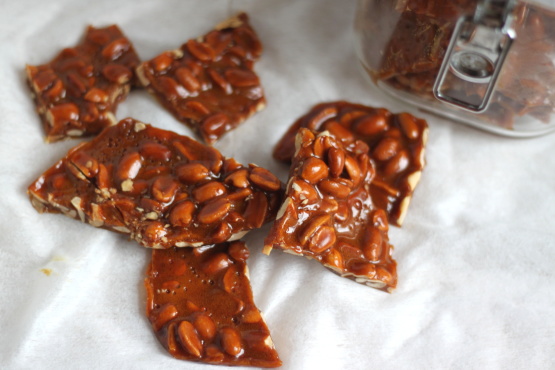 This is the best peanut brittle ever. It does take some time to make but it's worth it.

This is a delicious recipe -- as far as it goes. About 50 years ago I got it from my mother, who had gotten it from her mother, but when I made the recipe it didn't turn out as good as my mother's. When I told her this, she immediately asked how I had made it and I told her - step by step how I had made it. When I got through telling her she looked at me with a look on her face which seemed to state, "Why you poor retarded child" as she said, "Billy, you didn't stretch it!" Baffeled, I replied, "Stretch it? You didn't say anything about 'stretching it'!" "Billy, everyone knows you are supposed to stretch peanut brittle." Well, I didn't know it, and as indicated by the dozens of recipes I have read over the years - not many other people have heard of it either. Mama went on to explain that if you just pour the brittle out and let it cool you haven't completed the job, and that if your hardened candy still has the tiny bubbles in it from adding the soda -- you didn't finish the job. Which means, "You didn't stretch it." She then had to explain what that means. She says to make good peanut brittle you have to be willing to "suffer" a little. As soon as soda has been added and foams up, the candy should be poured out onto a buttered hard surface (preferably marble.) Mama didn't have fancy stone countertops but she did have a slab of marble for making peanut brittle. Then, as soon as it begins to cool around the edges, start stretching the candy outwards. This disposes of all the tiny bubbles and leaves the candy looking like clear amber-colored stained glass with the peanuts suspended in the glass. Use heavy rubber gloves during the process to cut down on the "suffering." Despite everything, you will have the most wonder brittle you can possibly imagine. Happy stretching!!
Butter 2 cookie sheets, 15 1/2 x 12 inches; keep warm.
Mix baking soda, 1 tsp water and the vanilla; set aside.
mix sugar, 1 cup water and the corn syrup in a 3 quart saucepan.
Cook over medium heat, stirring occasionally, to 240 degrees F on candy thermometer.
Stir in margarine and peanuts.
Cook, stirring constantly to 300 degrees F.
Watch carefully so it doesn't burn.
Remove from heat immediately; stir in baking soda mixture.
Pour half of the candy mixture on each cookie sheet and spread quickly until it is about 1/4 inch thick.
Cool and break into pieces.