Peaches and Pears Frozen Fruit Salad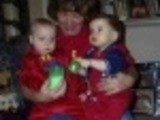 This cool recipe uses jello and lemonade concentate as its base. It does NOT include fattening items like evaporated milk and cream cheese. This is quick to put together but does require 4 hours to freeze (cook time in recipe).
Directions
Drain and chop fruits.
Dissolve gelatin in boiling water.
Add concentrate and stir until melted.
Chill until slightly thickened.
Blend in whipped topping and fold in fruit.
Pour into a loaf pan and freeze until firm (about 4 hours).
Unmold and slice, garnish if desired.
Most Helpful
Trisha W, I chose this because it is lower in fat than a lot of other frozen fruit salads. Thank you so much for that! We all loved it's rich, creamy texture. I think I made the chunks of fruit too big. Next time I will chop them up a bit more. And there will definatly be a next time!

We loved this! I used sugar free jello and fat free cool-whip. (If I was making it for company I would use only light cool-whip as the fat free did not set well. But it was what I had and it was fine with us.) I also used a little less cool-whip then called for (probably closer to 2 cups) because it was all I had. The kids and I made it together and we really enjoyed it. Cold and sweet and light. It felt great on my sore throat!