Paula Deen's Green Bean Casserole
Lvs2Cook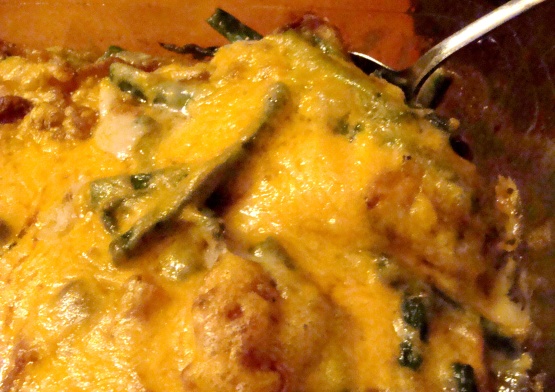 This recipe may be a little more labor intensive to make than the usual green bean casserole but it's so worth it. I love the fresh green beans and the cheese! I always use more mushrooms than called for just because I love them!
This is great, I used extra mushrooms and added Worcestershire sauce to it. Family loved it!
Preheat oven to 350º.
Bring the chicken broth to a boil in a saucepan.
Boil the green beans in the broth for 10 minutes.
Meanwhile, in a large skillet, melt the butter and saute the onions and mushrooms.
Drain the green beans and add to the mushroom and onions mixture.
Add the mushroom soup, onion rings, and seasonings to this mixture as well.
Stir until well combined and pour into a greased 1 1/2 quart baking dish.
Bake for 20 minutes, then top the casserole with the Cheddar and bake for 10 minutes longer, or until the casserole is hot and cheese is melted.